You're invited to join us in prayer!
Divine Liturgies held every Sunday at 10:00 a.m. !
Embrace the beauty of Ukrainian Catholicism at our family-friendly welcoming parish located in 6425 – 120 Ave, Edmonton, Alberta.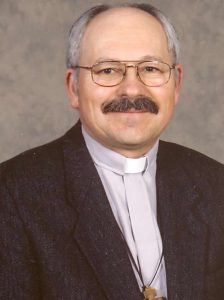 Meet Fr. Mihajlo Planchak!
Questions about attending Holy Eucharist for the first time? Feel free to contact Fr. Planchak at: 
Phone: 1-780-471-2445
Email: [email protected] 
Here are some commonly asked questions you may have when attending your first Ukrainian Catholic Church…
Is there free parking? Yes! There is plenty of parking beside the parish before any of our Divine Liturgies!
Will I be expected to donate? We do not pressure you to donate! When the collection tray is passed around, politely pass it to the next person!
What is the dress code? Pray with us with what you're comfortable in! If you prefer business casual or sweats, our focus is to connect with Christ! If you wish to walk and dress your best, as Christ is our guest, that's alright! 
Do I need to know Ukrainian or be an Eastern Catholic? No! We offer our Divine Liturgies in English so everyone can be involved! You do not need to be Catholic to attend and pray in any of our Divine Liturgies! We do ask you refrain from receiving Holy Communion unless you are Catholic. 
Experience the Divine Liturgy!
Experience what a Divine Liturgy is like by viewing a live-streamed video!